Measurements of the practical salinity of the oceans and seas are currently performed mostly by CTD measuring systems, which over the past 50 years have progressed from a complementary to salinometry to replacement of the bottle samples salinity in a routine of the oceanographic measurements. Currently, salinometry is still the only method of calibration and verification of conductivity/salinity measurements, both in calibration laboratory conditions and in situ during the oceanographic cruises.
Here is the list of the modern oceanographic CTD systems, placed in alphabetical order of manufacturers:
SeaGuard CTD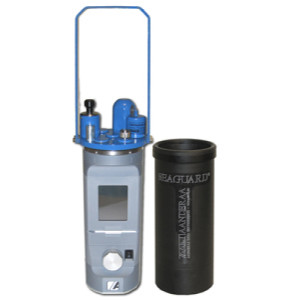 SeaGuard CTD Recorders may be used as a multi-parameter instrument in the sea and in freshwater and feature a modular plug-and-play architecture. The SeaGuard CTD is a self-contained instrument which can also be used as a platform for other additional measurements.
Default features:
Working range: 0 – 300m, 0-3000m and 0-6000m
Down to 2 seconds recording interval
2 GByte storage capacity
Battery (15Ah) – Expandable to 70Ah
SeaGuard Studio Software
Optional features:
Oxygen
Pressure, Tide and wave
Conductivity
Temperature
Turbidity
Minos•X CTD / SVP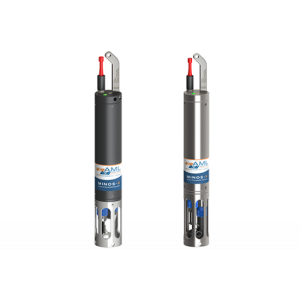 From the tropics to the arctic, Minos•X has proven to be a reliable profiling partner. When direct sound velocity is desired but salinity and density data is needed, count on Minos•X. The smallest combined CTD/SVP on the market is known for its rugged performance and ease of use. For those surveying beyond 1000 m, deep water Minos•X in titanium housing will withstand the harshest of environments. Available with Data•Xchange to enable WiFi communication, automatic data transfer, and integrated GPS positioning.
Ocean Seven 320 Plus WOCE-CTD
The OCEAN SEVEN 320Plus WOCE-CTD multiparameter probe is the result of Idronaut's 35-year-old experience in the design and manufacturing of high-quality fast response CTDs. The OCEAN SEVEN 320Plus CTD well meets the WOCE programme accuracy, precision and resolution specifications. The OCEAN SEVEN 320Plus WOCE-CTD is equipped with the well-known IDRONAUT full ocean depth, pump-free and long-term stability sensors. Central to which, is the high accuracy seven-platinum-ring quartz conductivity cell (patented), which can be cleaned in the field without the need for re-calibration. This unique quartz cell employs a large diameter (8 mm) and a short length (46 mm) to guarantee self-flushing and no clogging after long-term deployment even in biologically active waters. Competitors' sensors, which present few mm only of cell orifice and very long cell length, are prone to clog even if protected by dangerous and poisonous antifouling devices.
Ocean Seven 304 Plus CTD Logger
Very low power, 8HZ self-recording CTD, dissolved oxygen or turbidity meter as options The OCEAN SEVEN 304Plus CTD completes the line of high quality and accuracy IDRONAUT OCEAN SEVEN CTDs, fulfilling the demand of a high- performance CTD probe with very small diameter and very low power consumption. This CTD can be easily integrated/adapted to third-party systems like floating profilers and/or oceanographic moorings, ROVs and AUVs. IDRONAUT prides itself on the design of its full ocean depth, pump-free, low-maintenance sensors. Central to which is the high accuracy seven-platinum-ring quartz conductivity cell (patented) which can be cleaned in the field without the need for re-calibration. This unique quartz cell employs a large diameter (8 mm) and a short length (46mm) to guarantee self-flushing. The OS304Plus does not require pumps or any other external device to flush the sensors, which minimizes its power consumption and allows the use in Arctica and Antarctica. The OS304Plus CTD standard interface is RS232C. Other optional interfaces are TTL and wireless Bluetooth®.
AAQ-RINKO, profiler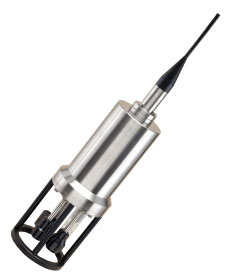 AAQ-RINKO makes vertical measurements possible with a profiling speed of 0.5 m/s, similar to CTD observation, thereby significantly reducing the observation time (while conventional water quality profilers with a slow response DO sensor require holding the instrument for a certain period at the measurement depths). In addition to conductivity, temperature, depth, chlorophyll, turbidity, DO and pH, AAQ-RINKO also enables simultaneous installation of PAR (Photosynthetic Available Radiation) and ORP (Oxidation Reduction Potential) sensors. The processing unit is available in three types in accordance with the observation applications.
WiMo: multiparameter sonde
The WiMo sonde can measure up to 20 water parameters as you can plug up to seven sensors at a time. The WiMo sonde benefits from its smart digital sensor suite including the wiper to maintain the sensors. You can connect, disconnect and calibrate the sensors whenever and wherever you need even with the functioning sonde on the field. The probe is multifunctional and operational as it is suitable for any type of support – among them very light buoy, ladder, stake and pontoon.
RBRmaestro³ C.T.D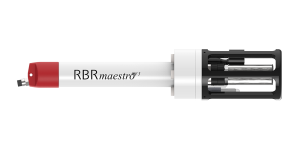 RBR's multi-parameter, multi-channel loggers are designed to provide you with the flexibility to select the right combination of sensors for your water quality measurements. The choice of up to ten sensors can be integrated with the logger. The loggers are available in two configurations: one for autonomous deployment and one for water column profiling. The recorders can be equipped with data and power connections to facilitate remote access or remote data acquisition. Available sensors: Conductivity, Temperature, Depth, CO2, Dissolved Oxygen, Fluorescence, ORP, PAR, pH, Turbidity, Transmittance, and Voltage
RBRconcerto³ C.T.D, RBRbrevio³ C.T.D
Features
240M readings
Up to 32Hz sampling
USB-C download
Twist activation
Wi-Fi ready
Available sensors: Conductivity, Temperature, Depth, CO2, Dissolved Oxygen, Fluorescence, ORP, PAR, pH, Turbidity, Transmittance, and Voltage *The RBRbrevio³ is strictly a C.T.D
Multiparameter probe CTD115M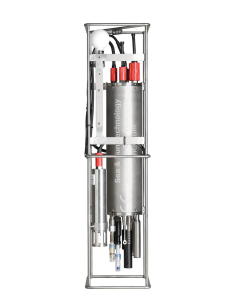 The CTD115M is a high quality, high accuracy online and memory multi parameter probe with max. 11 sensors for oceanographic and limnologic measurement of physical, chemical and optical parameters up to a depth of 500 m. Data are stored in a standard flash memory card with a capacity limited to 128 Mbytes by the internal firmware. Up to 3 000 000 CTD data sets can be recorded on this memory. The actual number depends on the selected storage options and the number of sensors adapted to the probe. The CTD115M allows operation in different modes:
Continuous mode: each data set is stored.
Time mode: data sets are stored only at programmable intervals with several selectable schemes.
Pressure mode: data sets are stored at programmable depth stamps.
Online mode (RS-232).
The CTD115M is equipped with a 16 channel data aquisition system with 16 bit resolution. A high long-term stability and automatic self-calibration of the analogue digital converter guarantees stable and precise CTD measurements for many years.
CTD60Mc – ultra deep sea
The CTD60Mc – ultra deep sea is a high quality, high accuracy memory probe for oceanographic measurement of conductivity, temperature, ambient pressure in depth up to 11000 m (12000 dbar) The CTD60Mc – ultra deep sea is characterised in particu¬lar by its ability to directly output physical and calculated data such as salinity, sound velocity and density Standard models: CTD60Mc – Ultra Deep Sea: Online and memory probe for measurement of conductivity, pressure, temperature Standard sensors:
Conductivity (С)
Temperature (T)
Pressure (D)
SBE 911plus CTD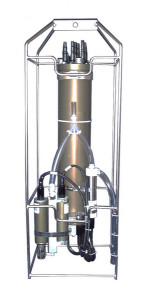 The SBE 911plus CTD is the primary oceanographic research tool used by the world's leading institutions, providing 24 Hz sampling with an SBE 9plus CTD Unit and SBE 11plus V2 Deck Unit. The 911plus system provides real-time data collection over 10,000 meters of cable (single- or multi-conductor electro-mechanical sea cable, slip-ring equipped winch, and computer for data display and logging supplied by user). The 911plus is easily integrated with an SBE 32 Carousel Water Sampler for real-time or autonomous auto-fire operations. The 911plus' pump-controlled, T-C ducted flow minimizes salinity spiking caused by ship heave and allows for slow descent rates without slowing sensor responses, improving dynamic accuracy and resolving small scale structure in the water column. One Conductivity and one Temperature sensor (fitted with TC Duct and constant-flow pump) are included. An optional second (redundant) pair of T and C sensors and pump can be easily installed. The 911plus supports numerous auxiliary sensors (dissolved oxygen, pH, turbidity, fluorescence, oil, PAR, nitrates, altimeter, etc.) with eight A/D channels.
SBE 37-SM, SMP, SMP-ODO MicroCAT
The SBE 37-SM/SMP/SMP-ODO MicroCAT is a high-accuracy conductivity and temperature (pressure optional) recorder with Serial interface (RS-232 or RS-485), internal batteries, Memory, optional pump, and optional optical dissolved oxygen sensor. The MicroCAT is designed for moorings or other long-duration, fixed-site deployments for fully autonomous applications. Data is recorded in memory and can be output in real-time. Measured data and derived variables (salinity, sound velocity) are output in engineering units. Memory capacity exceeds 530,000 samples. Sampling every 2 minutes, the MicroCAT can be deployed for 2 years (battery endurance exceeds memory capacity).
SBE 16plus V2 SeaCAT CT(D)
The SBE 16plus V2 SeaCAT is a high-accuracy conductivity and temperature (pressure optional) recorder designed for moorings or other long-duration, fixed-site deployments. It supports numerous auxiliary sensors (dissolved oxygen, pH, turbidity, fluorescence, oil, PAR, etc.) with six A/D channels and one RS-232 data channel. The 16plus V2 communicates via an RS-232 serial interface, and has internal batteries and memory. It is well suited to networked sensor arrays where its operation can be triggered by satellite, radio, or hardwire telemetry equipment. Data is recorded in memory and can also be output in real-time in engineering units or raw HEX. Battery endurance varies, depending on the sampling scheme; nine alkaline D-cells provide power for 355,000 samples of C and T.
HydroCAT-EP
Factory calibration and streamlined reference checks enable users to generate scientifically defensible data with minimal time and cost required for field maintenance. A five-year warranty and a set annual service cost means users can easily predict and plan for their service costs during the first five years of use. Ideally suited for long term deployments, the HydroCAT-EP can be easily integrated with external data loggers and telemetry systems. Specifically designed for long-term deployments in remote, biologically rich environments, it comes equipped with multiple anti-fouling systems. Most sensors, including pH, are protected within the unique internal flow path by EPA approved anti-foulant devices. An integral pump minimizes the sensors' exposure to environmental waters, significantly reducing the impact of bio-fouling on sensor performance and drift. A copper faceplate and wiper protect the combination chlorophyll and turbidity sensor.
CastAway-CTD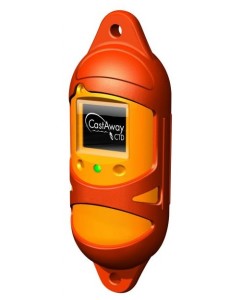 The CastAway-CTD is a small, rugged and technically advanced CTD designed for profiling to depths of up to 100m. The instrument is simple to deploy, does not require a pump and is hydrodynamically designed to free fall rate of 1 m/s. The integrated real-time data display screen, internal GPS sensor and automated wireless data transfer are unique features that simplify data collection. Designed for coastal profiling, the CastAway-CTD® incorporates a 6-electrode conductivity cell, coupled with a fast response thermistor to provide middle-class CTD measurements to depths of 100 m.
fastCTD Profiler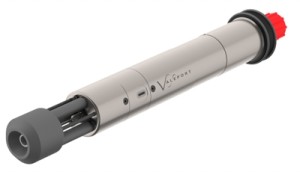 The Fast Profiler has been designed to deliver the highest quality CTD casts at rapid drop rates. A conductivity cell designed for optimum flow-through, a fast response thermistor temperature sensor and a 0.01% pressure sensor synchronously sampling at 32Hz deliver the highest quality profiles in a lightweight and robust package. Add in an integral fluorometer based on Valeport's new Hyperion range, an optional Bluetooth communications module and the fastCTD Profiler offers a unique and versatile package.
MIDAS CTD +
The MIDAS CTD+ is a revolutionary Multiparameter CTD, with a wide choice of standard sensors. Featuring Valeport's latest 400 Series electronics, the CTD+ will sample all fitted sensors at exactly the same instant, at up to 8Hz. Advanced setup software allows a variety of sampling regimes including burst modes, delay starts, and conditional sampling. With up to 64Mbyte memory and internal battery pack, as well as a selection of real time output formats, the CTD+ is perfect for both profiling or fixed mooring applications. In addition, the CTD+ may be used with Valeport own water bottle carousel.